08 May

Act From Principles, Not Polls
Act From Principles, Not Polls
One of Team Tipton's five essential behaviors of transformational leaders is that they act from principles, not polls, even when they aren't popular, or normal, or when they may even seem (on the surface) like the wrong thing to do. This tenet is so very simple, and though it can become complex, it creates guideposts for decisions on how to build, run and grow your organization. Consider Yvan and Malinda Chouinard, the co-founders of Patagonia, an outdoor gear and apparel company.
In 2011, Patagonia ran a controversial set of ads to kick off their "Common Threads" campaign asking consumers to pledge to purchase only what they need. The campaign, featured in major newspapers across the country during the last week of November, just before holiday shopping shifts into high gear, was called, "Don't Buy This Jacket."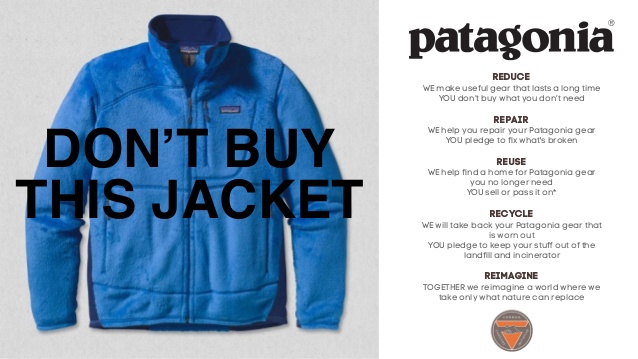 Was this company seriously encouraging consumers to buy less? Critics called it a cynical trick, as if by projecting the idea of social responsibility, the company would, in essence, be encouraging people to buy more of its products. But Patagonia still stands by the Common Threads Initiative years later, offering lifetime repairs to consumers to encourage them to fix, rather than replace, their coats, gloves and sleeping bags, taking back used fleece to recycle, and partnering with eBay to make it easier to sell used Patagonia gear.
Patagonia is an outdoor gear company with roots in the 1960s when Yvan Chouinard taught himself to blacksmith in order to create reliable and removable climbing gear (previously, rock climbers would leave their gear permanently in the rock faces they scaled). In the 1970s, he and his wife, Malinda, and friends started using heavy duty materials they came across in their travels to create sturdy and comfortable clothing they could wear on their outdoors adventures and sell to other sportspeople. In the 1980s, they scaled up, started making the equipment and clothing in bright colors, and Patagonia, the brand we are familiar with today, carved out a leading place in the emerging outdoor gear and clothing market.
Throughout the company's history, Yvan and Malinda were clear; their company built equipment and clothing to explore the outdoors, and so their purpose as a company must be to protect the outdoors. The company gives 1% of their total sales as an "Earth tax" to support grassroots conservation organizations in the areas they work. They pioneered the use of recycled plastics in developing fleece and other materials, and have been using fair-trade organic cotton and other fibers for more than 20 years.
The value Patagonia places on natural resources extends to their human resources as well. For example, Malinda initiated an on-site daycare for employees in 1985, and created policies to enable their employees the kind of life balance that enables them to enjoy the gear and clothing their company sells.
She also encouraged the company to become a B-Corp in 2012, a business certification earned by a commitment to fair treatment for labor and high standards in social and environmental impact. In other words, Patagonia's principles are visible in every aspect of their business.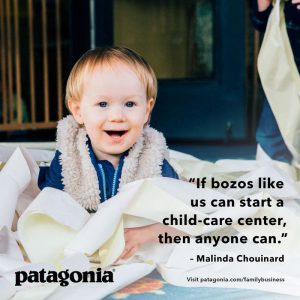 Patagonia is a $1 Billion dollar company with a keen moral compass, and Yvan Chouinard's influence has extended to help major corporations like Wal-Mart, Macy's and The Gap extend their own sustainability practices.
Yvan and Malinda Chouinard have led Patagonia with their principles for more than 40 years. Their first goal was to preserve the environment that their gear and clothing are designed to enable all of us to enjoy, and with that value at the front and center, have grown Patagonia into a leader in ethical business practices.
Until next time, let's lead by doing what's right for our planet and for one another.
All our best,
Team Tipton
**Content drawn from Patagonia's Philosopher King and the Patagonia website.
Want to learn more about how Team Tipton can benefit you and your team?
We'd love to hear from you and set up a short exploratory call.
Schedule yours here.